SBHA provides several tools and collects data to monitor the growth of SBHCs nationwide, help assess where SBHCs are most needed, advocate for SBHC expansion, and improve the quality and sustainability of school-based health services.
The National Census of School-Based Health Centers
SBHA has conducted the National Census of School-Based Health Centers for more than 20 years, capturing the growth and evolution of SBHCs across the country. This online survey provides the school-based health care field with accurate, up-to-date data about SBHC demographics, staffing, services, and financing.  
The COVID-19 pandemic prompted a pause in the Census scheduled to launch in spring 2020. A national survey in 2021 focused on the experiences of SBHCs during the COVID-19 pandemic (see below). The 2022 Census was completed in September 2022 in partnership with Dr. Samira Soleimanpour, Sara Geierstanger, and her research team at the University of California, San Francisco. It is the first Census since the 2016-17 school year and the first to capture SBHC data since the pandemic, including SBHC locations, staffing services provided, populations served, telehealth services and funding. 
As SBHA advocates for national policy and legislative action, we use the findings from the Census to tell the story of how SBHCs across the country are meeting the needs of their communities.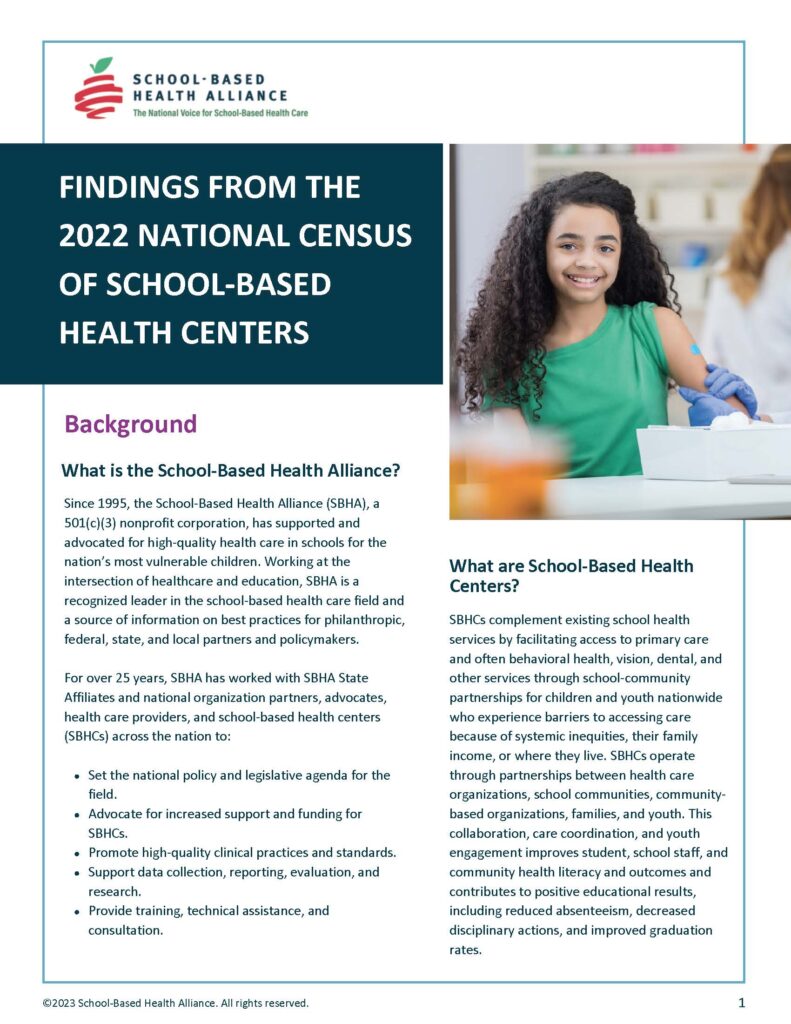 Our Children's Health and Education Mapping Tool, developed in partnership with HealthLandscape at the Robert Graham Center for Policy Research in Family Medicine and Primary Care, allows users to make data-driven decisions with geographic information systems (GIS) technology. The user-friendly system is designed to identify and characterize medically underserved areas to support expansion of access to health services. Users can search, map, and download data about child health, education, and socioeconomic status at the county level and compare it to national figures. The tool can map, filter, and view critical characteristics of public schools, school-based health centers (SBHCs), and other health care facilities. This information can help users plan where to target new services, identify who to collaborate with and learn from in their area, advocate, and fundraise with compelling visuals and relevant data for grant applications. 
The Mapping Tool will be helpful for those ...
The Mapping Tool Resources
School-Based Health Alliance (2022). The School-Based Health Alliance Children's Health and Education Mapping Tool. Washington, DC: School-Based Health Alliance. https://data.sbh4all.org/sbhadb/maps/
SBHA's Evaluation and Quality Panel provided initial support in shaping the vision of the Mapping Tool. SBHA received funding from the Atlantic Philanthropies, Aetna Foundation, Bechtel Foundation, and the Bureau of Primary Health Care to support the original development of the tool.
This publication was made possible by grant number 6 U3FCS41782‐01‐01 from the Health Resources and Services Administration (HRSA), Bureau of Primary Health Care. Its contents are solely the authors' responsibility and do not necessarily represent the official views of HRSA.
SBHCs can ensure that the students and communities they serve receive the best care by prioritizing quality improvement. SBHA encourages the field to:
Adopt standardized National Performance Measures
The SBHC National Performance Measures (NPMs) were developed to ensure that every child who uses an SBHC receives the highest standard of preventative care. The measures were selected by reviewing measures from national child health quality initiatives and engaging representatives from the field in a consensus-building process that prioritized measures based on their sensitivity, importance, feasibility, and usability for SBHCs. The NPMs assess SBHCs progress to ensuring that every client receives, when appropriate:  
An annual well-child visit
A risk assessment
Screening for body mass index (BMI) with nutrition and physical activity counseling
Screening for Depression with appropriate follow-up
Screening for Chlamydia among sexually active clients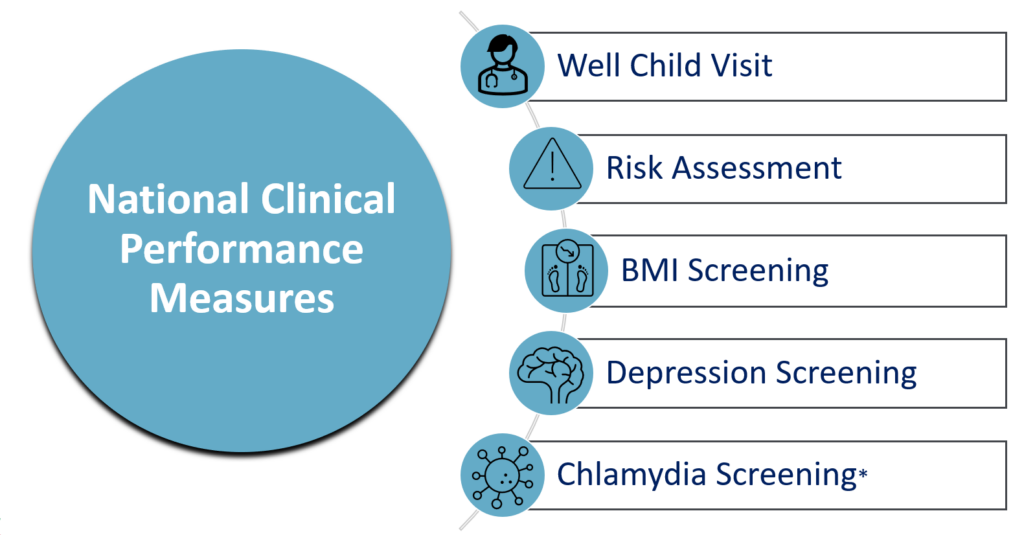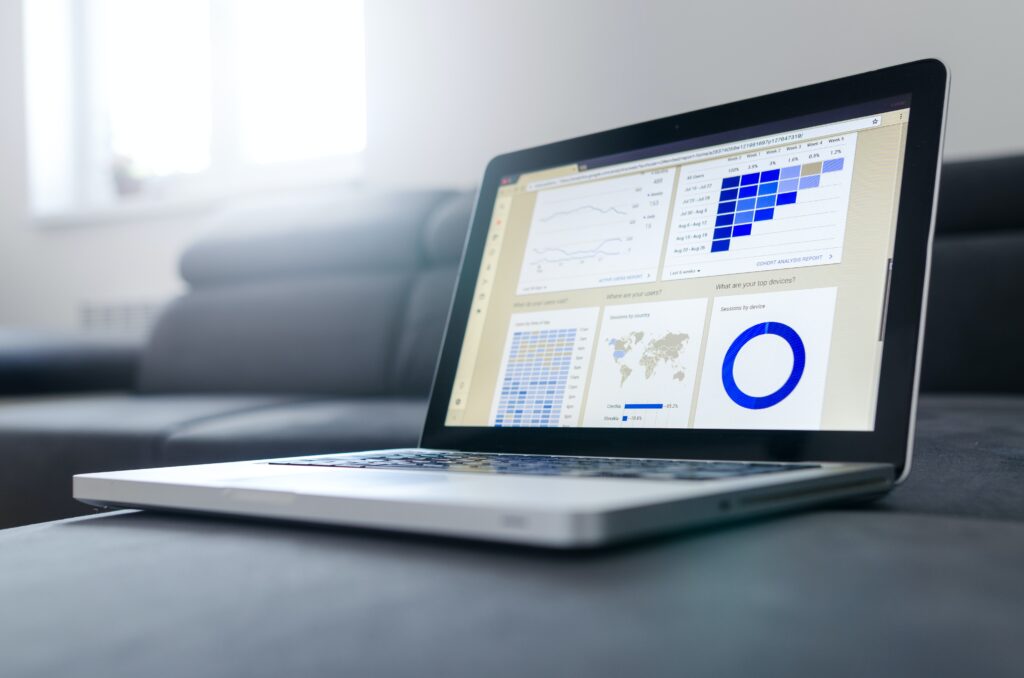 Report performance measure data through Quality Counts
SBHCs can report National Performance Measure data annually through SBHA's Quality Counts initiative. This information helps SBHA communicate the impact that SBHCs have on student health by clearly identifying how many students receive foundational health services and allows SBHCs to compare themselves to a national average.
Engage in continuous quality improvement practices
Quality improvement to promote sustainable practices and ensure SBHCs provide student-focused high-quality care.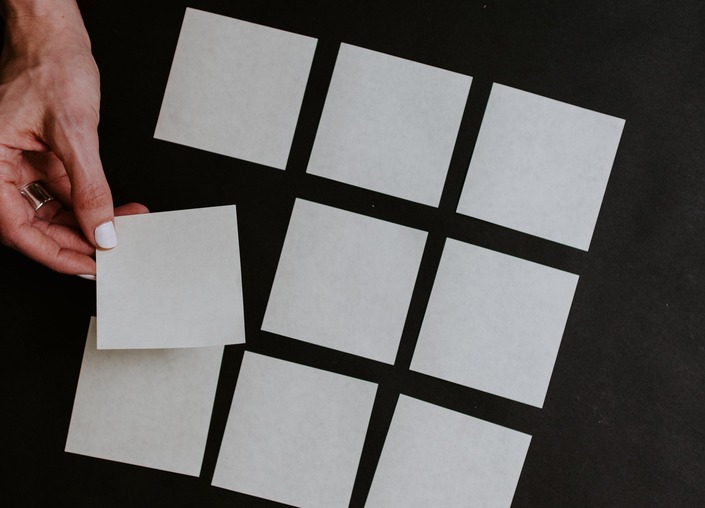 This work is supported by the Health Resources and Services Administration (HRSA) of the U.S. Department of Health and Human Services grant titled: Collaborative Improvement and Innovation Network on School-Based Health Services. This information or content and conclusions are those of the author and should not be construed as the official position or policy of, nor should any endorsements be inferred by HRSA, HHS, or the U.S. Government [grant number U61MC31885]