Addressing Youth Mental Health
The School-Based Health Alliance (SBHA) has been partnering with the National Council for Mental Wellbeing's (NCMW) Center of Excellence for Integrated Health Solutions since 2020. 
Most recently, in partnership with NCMW, SBHA convened a learning collaborative focused on integrating behavioral health in schools across the United States. Eight behavioral health organizations from California, Florida, Illinois, Massachusetts, Missouri, Oregon, and Pennsylvania joined the collaborative. The learning collaborative launched in February 2023 and met 12 times through July 2023, covering a range of topics, including recognizing the value of school-based health care services; forming partnerships; implementing services in schools; developing the workforce; creating sustainability; integrated school-based health care and the basics of school-based health centers (SBHCs); ongoing collaboration; Justice, Equity, Diversity, and Inclusion (JEDI) considerations; and the social determinants of health (SDOH). These topics were selected based on key informant interviews conducted in the previous year to learn more about what challenges school-based professionals were facing. 
New resource for community mental health and substance use care organizations
In August 2023, the Center of Excellence for Integrated Health Solutions and SBHA co-released a resource, "Partnering with Schools To Improve Youth Mental Health: A Resource for Community Mental Health and Substance Use Care Organizations," to help organizations plan and successfully execute successful partnerships with schools.
Young people in America are experiencing a mental health crisis. Mental health care for students in K-12 is at the forefront of health care concerns nationwide, driven by alarming rates of poor mental health and suicide risk, a shortage of access to appropriate care and disproportionate impacts for underserved populations, all exacerbated by the COVID-19 pandemic. Collaboration between schools and community mental health organizations, including Certified Community Behavioral Health Clinics (CCBHCs), is essential to providing the care needed for our young people.
Download the guide to learn how your organization can develop new school-based health care partnerships and programs, ensure collaboration with existing services at schools and work toward creating and expanding partnerships that lead to increased access to mental health and substance use care via school-based health centers.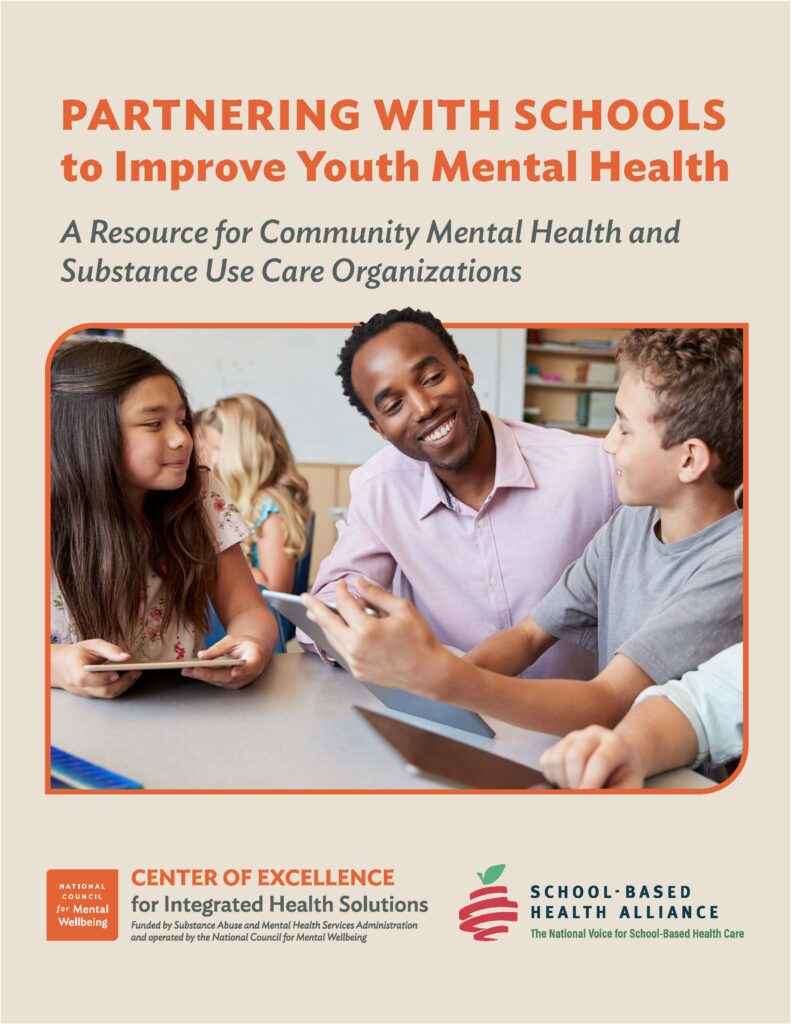 In September 2023 NCMW and SBHA presented a webinar to disseminate the findings of the resource guide and briefly discuss the learning collaborative. The recording can be found on NCMW's website.